PWA for Shopify
Your Shopify store to Installable app on homescreen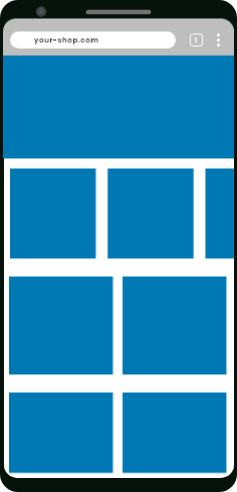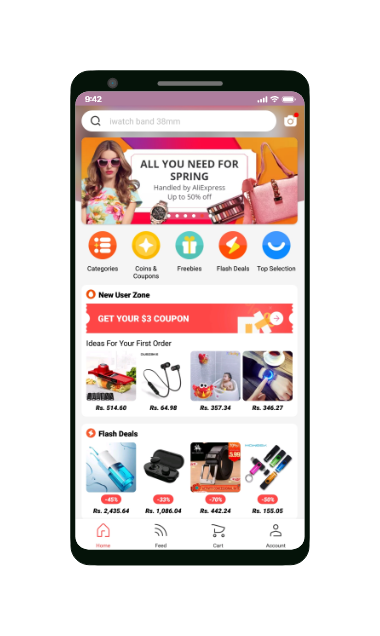 PWA stands for Progressive Web App

104% increase in conversion
2x page visitors
74% more time spent
One of the reasons we built a Progressive Web App was to be able to invest in the web experience across all browsers. Not only did we see huge benefits on browsers that support the latest features, but we also got to see a bump across the board. That is the sign of a great investment, and one that will keep paying for itself as browsers evolve.

Lijun Chen
Director of AliExpress Mobile Team.
How (Progressive Web App) PWA helped these brands grow

Pinterest rebuilt its mobile site as a PWA and core engagements increase by 60%. They also saw a 44% increase in ad revenue.

Uber's PWA was designed to be fast even on 2G. The core app is only 50k gzipped and takes less than 3seconds to load on 2G networks.

Tinder cut load times from 11.91 seconds to 4.69 seconds with their new PWA. The PWA is 90% smaller than Tinder's native Android app.
Key Features
Playstore Ready
Upload your store to Playstore for better discoverability
Fast Load
upto 3 times faster than the regular website
Smaller
Smaller App size, just under 1MB
Your App icon
Your app is just a click away from home screen

Push notification (Coming soon)
Order Alerts Order updates via a Push notification from store
Offer Alerts Send push notifications during offers and discounts
New Item updates Alert users when new products are added to the store
Zero Coding involved
Zero coding needed. 3 simple steps
Full Screen App experience; No Address bar
Let Add to Home-screen popup drive more installs
In Just 3 simple steps
Installation
Enter your Shopify store URL in the box given above and click on the Install button.
App name and App icon
Provide details of how you want your app to feel and look like.
Launch
Choose plan and start free trail to experience the app experience like never before.
Shopify PWA App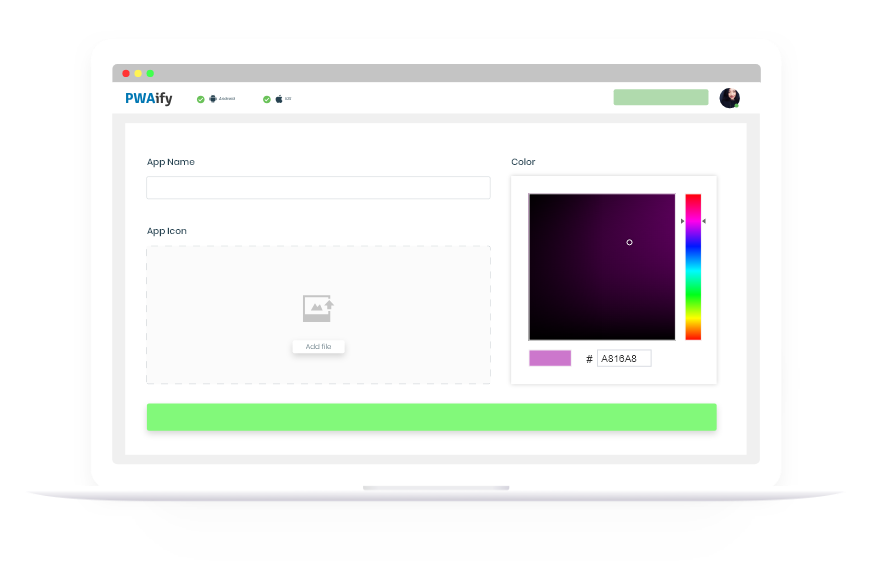 FAQs
How does PWaify help your Shopify Store?
PWAify converts your Shopify store to Progressive web app( A technology invented by Google), which in turn creates an installable app for your store. Now your store loads faster(up to 3 times) and enables smooth checkouts. Enhancing checkouts can lead to reduced cart abandonment and higher conversions for your Shopify store.
I am interested, what should I do next?
Enter your Shopify store URL in the box given above and click on the Install button.
How can I get in touch with you?
You can reach us at mail@coffye.com for any queries.
Is this free?
PWAify isn't free. You can choose basic plan from start and upgrade on the go.